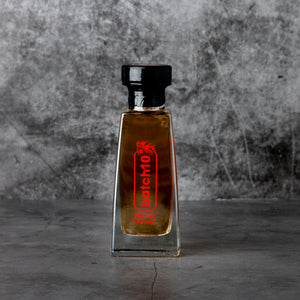 Premium Kentucky whisky, smoked with Manuka. Made in small batchs with our secret Manuka smoking process.
It has a strong smoked single malt Whisky front followed by a smooth finish. Something quite special and tricky to make. 100ml 45ABV
Awards
Silver Medal in the Whisky Section of the 2019 New Zealand Spirit Awards.
Bronze Medal in the 2020 Melbourne International Spirit Competition.
"I don't normally do this but I find myself having to share my experience.

I've never been the one to crave a drink but ever since I tried your Manuka smoked whisky (at the coatsville market) recently, I can't help by pour myself a drink (or two) every night! I've managed to finish a bottle with each sip better than the last.

I've always been a scotch drinker (esp The Islay distilleries) but I enjoy this drink so much that I've started to explore the bourbon scene!

I look forward to ordering a few more bottles from you very soon."

Abhishek - Auckland