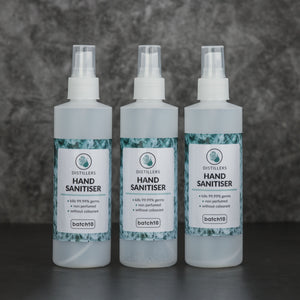 Developed from a collaboration of New Zealand Distillers, batch10 Spirits have produced this Hand Sanitiser to the World Health Organisation recipe.

Its quick acting 80% alcohol level, in an easy to use spray bottle, makes this product  effective and easy to use.
Each 250ml bottle is priced at $10 and is currently available in a three pack, for $30.
The Hand Sanitiser is non perfumed, and does retain some of the natural alcohol smell depending on which distillery it comes from. ie Light Gin or Whisky smell. Please note it is not intended for consumption.
By purchasing this product you are choosing to buy Kiwi made, and supporting several local family distilleries.
Feel free to combine several packs for a single courier cost. 

Customer Feedback:
"I bought the batch10 hand sanitiser over a month ago and have been using it alongside my Nursing colleagues. We all really like using it, and the fact that it does not 'build up' on our hands like other products do with the frequency that we need to hand sanitise.

Being a Registered Nurse the alcohol component and the fact that it was made to the WHO recipe was really important. Research shows that over 70% alcohol is necessary for hand sanitiser to be medically effective.

It also has a pleasant smell which is also important for something that we use so frequently"

Rochelle Taylor, Nursing Manager, Onsite Health Ltd.